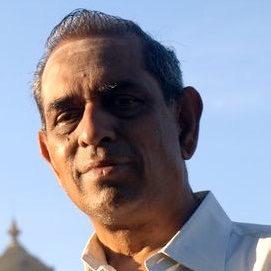 Blogger in his normal profile photo.
"We look before and after
And pine for what is not
Our sincerest laughter
With some pain is fraught
Our sweetest songs are those that
Tell of saddest thoughts!"
Great English Poet P. B. Shelly
So wrote the great English poet Shelly. But to me it would appear that sweetest songs can be our happiest thoughts also!
Yes; today as I post my THREE HUNDREDTH "ENVIUS THOUGHTS" through https://nvsr.wordpress.com, I am filled with a feeling of delight and a sense of achievement! Sure they are happiest thoughts that turn to be the sweetest song!
Yes; it all started with my FIRST POST on 28th February this year on the fourteenth anniversary of my retirement –"MY TRYST WITH LIFE INSURANCE CORPORATION OF INDIA" and TODAY is my THREE HUNDREDTH POST-  "TALE OF A BLOGGER PART VI" on 10th December 2015- 286th day of my uninterrupted posts!
N V Subbaraman in his guest lecture in LIC Zonal Training Center Chennai.
One is amazed with the treasure house of Blog Statistics that "WORD PRESS" provides minute by minute! What a great human technology with the help of Information Technology!
Here I give below a few of my lines from my 150th post –TALE OF A BLOGGER Part III and (is it intriguing or interesting?) the beauty is there is no change in my attitude or approach towards my ENVIUS THOUGHTS from the time I posted my 150th  on 26th July 2015 to this day when I post 300th on 10th December 2015!
"Yes it has become a great Pastime to me as a blogger to observe the different scores of the VIEWS of the posts and record the same in my diary every hour from 5.00am to 9.00pm!
As the view score crosses every THOUSAND, I get a feeling of getting a great literary award for my writings!
Every time the views cross a thousand, I take pride in communicating the same to my viewers through all possible means and I feel as if a Nobel Prize has been conferred on me! What a childish response?
I do wonder many a time that how just sitting in my 12X10 computer room with a dhoti and banian on, – casually and freely worn at home – and keying in as my mind dictates, the ENVIUS THOUGHTS reach 160 countries and instantly I thank the God Almighty for HIS grace and the viewers for their patience and love."
First    5000th view was crossed on        09-6-2015
6000                                                  21-6-2015    (12 days)
7000                                                  02-7-2015    (11 days)
8000                                                  13-7-2015    (11 days)
9000                                                  24-7-2015    (11 days)
10000                                                            03-8-2015    (10 days)
11000                                                            15-8-2015    (12 days)
12000                                                            24-8-2015    (9 days)
13000                                                            01-9-2015    (8 days)
14000                                                            11-9-2015    (10 days)
15000                                                            21-9-2015    (10 days)
16000                                                            30-9-2015    (9 days)
17000                                                            11-10-2015 (11 days)
18000                                                            21-10-2015 (10 days)
19000                                                            29-10-2015 (8 days)
20000                                                            06-11-2015 (8 days)
21000                                                            14-11-2015 (8 days)
22000                                                            22-11-2015 (8 days)
23000                                                            02-12-2015!            (10 days)
Quite an interesting reading for me!
Total view score 23600 as of now from more than 180 countries of the world! What else can give greater joy and a sense of achievement to a blogger who deals with only literary aspects?
Top countries with views over 1000:
India                                                               6,594
Pakistan                                                        2,662
United States                                               2,497
Myanmar (Burma)                                    1,815
Views                                                             No. of countries
More than 1000                                                     004
Between 100 and 1000                                        027
Between 50 and 100                                             012
Between 1 and 50                                                  140
Post-wise I am  indeed amazed that my post on "NATIONAL CANCER SURVIVORS' DAY (US)" occupies the top score of views with 3552 out of 23600 total views of 299 posts!
What do I get out of this Blog?
Someone was asking me this question; I know I can't give an answer that will satisfy my friend! His expectation was that I must write professionally which can earn some money for me! I know that I am incapable of it and just I am only a casual writer having just 37 books to my credit-Verse and prose in English and Tamil, a few translations from English to Tamil and vice-versa – the work of Tagore, Bharathiyar, Bhagwan Ramana, Daisakhu Ikeda, Dr. Padmanabhan and so on and this in fact has made one literary organization to confer on me an award "மொழியாக்கச் செம்மல்" in Tamil which means "TRANSLATOR EXCELLENT"!
At times I do go out to deliver a talk here and there on Personality Development, literary pursuits, Poets Meet, Literary Festivals etc.
What else is required other than a sense of achievement and a feeling of joy in meeting the people and writing as we like on any subject of our choice!
Chennai city in recent floods.
A blogger from rain devastated Chennai and Tamilnadu cannot write anything without a reference to the ongoing holocaust. Indeed I have also written a post titled "WHY THIS VENGEANCE?" on 5th December 2015.  I strongly believe in Divine Dispensation and "since many things are wrought by prayer than the world dreams of", I pray for the restoration of normalcy at the earliest. At this point of time I recollect a poem that I wrote a long time back which I quote below:
Nature knows the dosage
Lovingly unfolds its plumage
Presents alike to young and old age
Sure it can cause no damage!
It rains, rains, rains to the need
Surely knows well when to cease!
Sun shines, shines, shines to the need
And knows well when to ease!
Wind blows, blows, blows to the need
And knows well when to ease!
Breeze fondly caresses indeed
And knows well when to tease!
Over dosage, punishment for a wrong deed
Under dosage, reprimand for a misdeed
Normal dosage, fine award for a good deed
Need indeed for the sprout of a seed!
Pain and pleasures part of our life
Nature knows when to start and stop
Feel not the agony of that knife
Handle the same as if it's a step to the top!
Pains and pleasures blessings of nature
By words and deeds noble, ensure a bright future!
What that sits heavily in the Blogger's mind is what we write should be of interest to the viewers and the moment they lose interest, 'views' will fall down and there cannot be any more disappointment than that.  As of now my concern is only on how to sustain the interest of my esteemed viewers. I only pray the Almighty to give me the strength- moral, intellectual and physical- to continue my blog activities. Let me see how far God is going to grant my prayer.
Thanks – this much is my tale for the 300th post and again we shall meet on this topic in 350th!
Till then bye and of course we meet daily!