"ENVIUS THOUGHTS"-MY VIEW! "ART AND SCIENCE OF BLOGGING"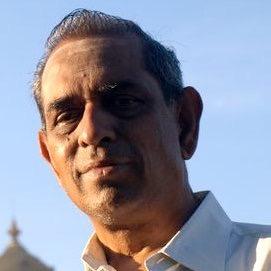 N V Subbaraman
The Blogger in his casual  attire on his Blog work in his study room!
I am of firm belief that it is Divine guidance that leads one's life. I have several times expressed through this Blog that ENVIUS THOUGHTS in https://nvsr.wordpress.com has become an important and integral part of my life and living and this is one of the three things dear to my heart at this age and stage!
It was in the last  calendar year that I started this blog and day after day, it is becoming a great passion for me!
Planning, decision making and execution- important management principles are applicable in managing a Blog also! It becomes very important especially if one wants to make a post every day in chain without a single day's break. It is indeed an art and science!
There are quite a few platforms- Shareaholic, WordPress.com, Blogger, Tumblr, Medium, Squarespace, Typepad, Weebly, Drupal, Joola and so on. I consider it my fortune that I chose "wordpress.com" as my platform for my blog ENVIUS THOUGHTS at the instance of my Bangalore based Journalist son. While I take stock of my Blogging experience since the last day of February 2015 when I made my FIRST POST till this day my 350th post, I feel as if I have achieved something very great in my life- much more than what I achieved while I was in service at a senior level in an Indian Public Sector Undertaking!
I am simply delighted to receive a report on my activities from WordPress which I proudly share with my viewers – SEVEN SNAP SHOTS- and some data.
In fact on 2nd January- I have shared the entire report in this blog. Though some information is repeated, I feel it is worth it.
" March 24
WORDPRESS.COM PRESENTS
Envius Thoughts
2015 IN BLOGGING
ANNUAL REPORT
Happy New Year from WordPress.com!I
To kick off the new year, we'd like to share with you data on your blog's activity in 2015. Start scrolling!
Crunchy numbers
The concert hall at the Sydney Opera House holds 2,700 people. This blog was viewed about 25,000 times in 2015. If it were a concert at Sydney Opera House, it would take about 9 sold-out performances for that many people to see it.
There were 312 pictures uploaded, taking up a total of 163 MB. That's about 6 pictures per week.
The busiest day of the year was August 20th with 237 views. The most popular post that day was A PRECIOUS GEM IS GONE! (20/8).
LONGEST STREAK
129 days
30 April – 5 September
BEST DAY
Sunday
with 55 posts total
Attractions in 2015
These are the posts that got the most views in 2015. You can see all of the year's most-viewed posts in your Site Stats.
1 National Cancer Survivors Day (USA)
1 COMMENT June 2015
2 World Day Against Child Labour June 2015
3 My Tryst with Life Insurance Corporation of India
7 COMMENTSFebruary 2015
4 WORLD OCEANS DAY
0 COMMENTSJune 2015
5 A PRECIOUS GEM IS GONE! (20/8)
2 COMMENTSAugust 2015
How did they find you?
The top referring sites in 2015 were:
facebook.com
tpc.googlesyndication.com
licpensionerscalicut.blogspot.in
plus.google.com
dp.g.doubleclick.net
Where did they come from?
That's 187 countries in all!
Most visitors came from India. Pakistan & The United States were not far behind.
Who were they?
Your most commented on post in 2015 was "My Tryst with Life Insurance Corporation of India"
These were your 5 most active commenters:
1   K Vasudevan   4 COMMENTS
2   Johncoyote  3 COMMENTS Following
3   Venkata ramani  3 COMMENTS
4   kandaswamyc 3 COMMENTS
5   Ramana         3 COMMENTS
Perhaps you could follow their blog or send them a thank you note?
See you in 2016!
If you like what you saw in this summary and want to know more about how your blog is doing, you can always visit your Site Stats, where our helper-monkeys are working day and night to provide you with pages and pages of detail on how your blog is doing.
Thanks for flying with WordPress.com in 2015. We look forward to serving you again in 2016! Happy New Year!
WordPress.com
but wait, there's more!
We want to help you make 2016 even better on WordPress.com."
I am pursuing further."
For the full report of the word-press, please refer to the post made on January second under the title "ENVIUS THOUGHTS-2015 WORD-PRESS REVIEW" by visiting the archives.
Today is my 350th post and that is the "TALE OF A BLOGGER Part VII"-! Every 50th post I share with my viewers the tale and 350th is the VII part. Number of days since the launch of the blog is 331.
Total number of views so far:                         27850
No. of countries:                                                    188
Top FIVE viewing countries:  India                  7607
USA                                                                         2919
Pakistan                                                                2831
Myanmar(Burma)                                              2410
Iraq                                                                        1093
Top FIVE posts by views:
National Cancer Survivors Day (USA)         6378
World Day against child labor.                      1398
My TRYST with LIC of INDIA                         155
World Oceans Day                                          108
A precious gem is gone                                  108
We can reasonably distribute the Home Page/Archives views viz 15278 over the 349  posts when   each Post on an average, view will be increased by 44.
I am amazed at the top viewed post viz "National Cancer Survivors Day (USA)"       with a view score of 6378. Please have a look at the vast difference between the first and the next! Probably it has an element of prayer ingrained in the post and that has attracted-is attracting -the viewers from all over!
So, thus goes my experience- There were moments of joy on looking at the increasing views and sadness when the number slipped on a few days. Record opening view score was on 17/1/16 and the score at 5.00 hours was ZERO!!!!!!???? which is normally anything between 20 to 50! It has in fact helped me to follow the Geethopadesa-"ACTION IS THY DUTY; FRUIT IS NOT THY CONCERN".
Very interesting experience visited me on 22nd January when a few viewers from US and Iraq expressed their great sense of appreciation for Tamil Saint Poet Thiruvalluvar's thoughts  on 32 topics which were shared through "ENVIUS THOUGHTS"  in 32 posts! The rest 101 will by HIS grace, I hope will appear in the Blog in due course.
Let me go on with my passion as long as God wills it.
I wholeheartedly thank my viewers from 187 countries of the world and solicit their continued support. I am equally grateful to WORDPRESS for providing a great platform for my "ENVIUS THOUGHTS".
Something interesting-nothing to do with the blog but of course something related to the blogger about twenty years ago and now!
When I was heading the Life Insurance Corporation's Kadapa Division, one of the Branch Managers attended a session at the National Insurance Academy -an Institution in Pune devoted to Insurance Education in India- gave an assignment to the fifty odd participants  to present the profile of their "ROLE MODEL". This participant chose in his own way to quote this blogger as his role model and made a fine presentation of it. He never told me about this on his return. After a few months when I happened to visit the NIA, the Faculties and the Director congratulated me and asked what magic I did. I could not catch it and then they came with the "ROLE MODEL EPISODE". I told them that the participant probably had so much of affection for me which anyhow I don't deserve!. Later the NIA returned officer explained to me in detail.
A couple of days back an eighth standard girl student of a famous school in Chennai, came running  to share a news with me on return from school. She is the daughter of my neighbor in our colony. In her half yearly examination English paper on the other day there was a question: Write 10 lines on the personality whom you like most." This girl told me she wrote about this blogger and she was awarded full 3 marks for her writing!
What a parallel in the gap of a twenty year period at different levels of the individuals concerned!!
Wishing you all a fantastic 2016!