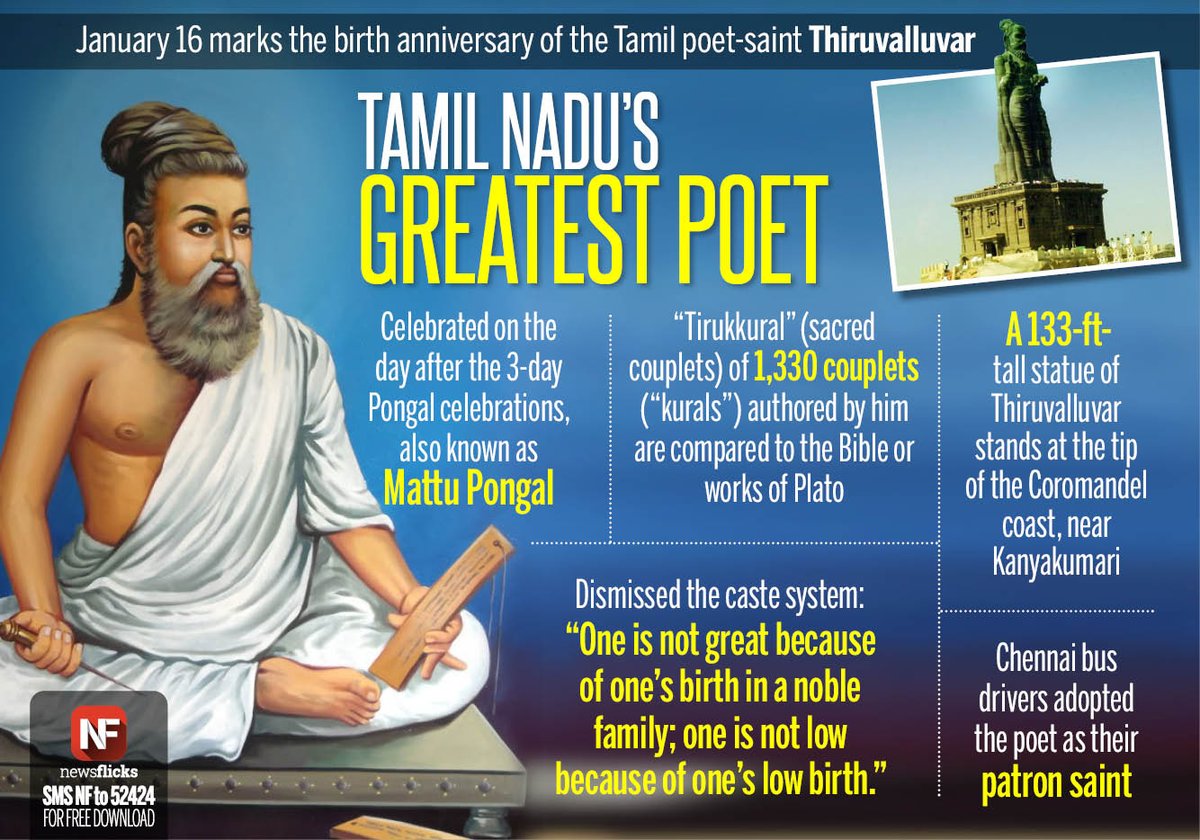 Chapter 33
அதிகாரம் 33
NON – KILLING
கொல்லாமை
அறவினை யாதெனில் கொல்லாமை கோறல்
பிறவினை எல்லாம் தரும்.
Aravinai yaadhenil kollaamai koaral
Piravinai ellaam tharum.
What is a virtue?
Non – killing! Top of all sins
Killing – none should pursue!
Virtue lies in not killing any living being; killing leads to all other sinful things. (321)
2. பகுத்து உண்டு பல்லுயிர் ஓம்புதல் நூலோர்
தொகுத்தவற்றுள் எல்லாம் தலை.
Paguththu uNdu palluyir oambudhal nooloar
ThoguththavatruL ellaam thalai.
Share thy food with all
Saving others – top virtue
The wise find it tall!
Top virtue as enshrined in the books of wisdom and morals is sharing the food with others and saving them.                          (322)
3.ஒன்றாக நல்லது கொல்லாமை; மற்றுஅதன்
பின்சாரப் பொய்யாமை நன்று.
Ondraaga nalladhu kollaamai matruadhan
Pinsaarap poyyaamai nanru.
Virtue of virtues
Non – killing sure; next in rank
Not lying – virtue true!
Ideal virtue is not killing; next is speaking truth.                                   (323)
4. நல்லாறு எனப்படுவது யாதெனின் யாதொன்றும்
கொல்லாமை சூழும் நெறி.
Nallaaru enappaduvadhu yaadhenin yaadhondrum
Kollaamai soozhum neri.
That is the right way
Not to kill any life sure
Save – the great will say!
Right way to lead life is not killing any living being; that indeed is a noble virtue.                                              (324)
5. நிலைஅஞ்சி நீத்தாருள் எல்லாம் கொலைஅஞ்சிக்
கொல்லாமை சூழ்வான் தலை.
Nilaianji neeththaaruL ellaam kolaianjik
Kollaamai  soozhvaan thalai.
True – he is a saint
Who kills not others – a sin
Holier than saint!
Instead of becoming a saint in fear of woes of family life, those in family life observing strictly not killing living beings are greater and nobler. (325)
6. கொல்லாமை மேற்கொண்டு ஒழுகுவான் வாழ்நாள்மேல்
செல்லாது உயிருண்ணும் கூற்று.
Kollaamai maerkoNdu ozhuguvaan vaazhnaaLmael
Sellaadhu uyiruNNum kootru.
The Lord of Death fears
To visit the non-killer
Puts him not in tears!
To the one who follows the noble principle of not killing any living beings, even the Lord of Death-Yama- will not have courage to visit and take his life off.                                  (326)
தன்உயிர் நீப்பினும் செய்யற்க தான்பிறிது
இன்னுயிர் நீக்கும் வினை.
Thanuyir neeppinum seyyarkka thaanpiridhu
Innuyir neekkum vinai.
Killing is a sin
Though his own life is at risk
The wise try to pin!
Even in order to save himself from the risk of death, he should not think of killing the other.                                               (327)
8. நன்றாகும் ஆக்கம் பெரிதெனினும் சான்றோர்க்குக்
கொன்றாகும் ஆக்கம் கடை.
Nandraagum aakkam peridheninum saandroarkkuk
Kondraagum aakkam kadai.
The gains of killing
The noble never desire
Though some are mulling!
The senseless people will think  great of the gains of killing others; the noble will feel very bad about it.                                     (328)
9. கொலைவனையர் ஆகிய மாக்கள் புலைவினையர்
புன்மை தெரிவா ரகத்து.
Kolaivanaiyar aakiya maakkaL pulaivinaiyar
Punmai therivaa ragaththu
The butcher knows not
The sin of killing – whereas
The wise know – kill not!
The butcher does not know the sin and disgrace of killing; the wise people know and hence do not kill.                                      (329)
10. உயிருடம்பின் நீக்கியார் என்ப; செயிர்உடம்பின்
செல்லாத்தீ வாழ்க்கை யவர்.;
Uyirudambin neekkiyaar enba seyirudambin
Sellaaththee vaazhkkai yavar.
Who suffer a hell
In this birth, sure butchers last
The learned so tell!
The wise people say that those who suffer in ill health and poverty should have in the past killed the living beings and thus committed sin.          (330)