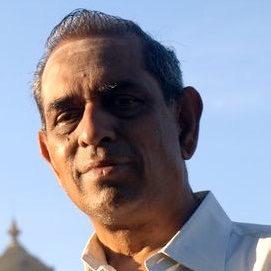 Blogger -ENVIUS THOUGHTS- N V Subbaraman
121. 7/1/16
According to Thiruvalluvar, the respect and reverence the non- vegetarians enjoy is total and taking meat to develop one's body is disgraceful.
This is emphasized in "Abstinence from Meat ", voiced by Valluvar and explained by you in yesterday's post very beautifully.
Out of habit and liking, one continues to consume meat, knowing very well that it's a non- virtuous act.
He lacks sympathy and compassion towards others.
Thiruvalluvar goes to the extent of commenting that the hell will swallow the meat-takers.
Abstinence from meat saves the life of animals and hence it can be followed strictly by the people.
When nobody is inclined to take meat, naturally, there will be none to sell it.
Valluvar considers not taking meat is better than penance resorted to by the people and so it's better on our part to avoid the disgrace that can be brought to us by taking meat of animals!
122.8/1/16.
Power and Strength of "Penance" exhibited well through the voice of Valluvar and your explanations.
Only the virtuous and the duty- bound are qualified to practice penance and win over the wicked.
Only they can help the noble people.
They not only welcome sufferings gracefully, but never intend any harm to others.
Penance is powerful enough to grant one's genuine wants.
If anyone practicing penance stops midway just to serve another doing penance, it's not considered a true penance.
Those who are serious with penance should be ready to deny their desires.
Penance by great people enables them to bear up with whatever sufferings they encounter and even to defy death which otherwise is feared at in general.
The fact that people practicing penance are less contributes to the lesser number of rich and powerful people, and more number of poor people.
There's the need for more people to engage in penance so that they become wiser and stronger too in spite of enormous sufferings they face.
They are comparable to the gold made to shine with repeated heating and beating.
Better it's for us to concentrate on penance and do better for ourselves and to others as well!
123. 9/1/16
Voice of Valluvar thro' your post today on "Hypocrisy– A Sin ", is very clear about the ways of a hypocrite.
Appearances are always deceptive and today many people pose themselves as saintly.
They appear to be neat and tidy but their behavior suggests that their ways and deeds are wrong.
Valluvar suggests that a hypocrite is laughed at by his own organs.
We can imagine how others will react to his disgraceful attitude.
Some people call themselves noble, but they are scoundrels to their logical end.
A true saint is one whose ways and deeds are always right.
He must never be a cow in the garb of a tiger in the forest.
He neither needs a shaven head nor a long- growing beard to show himself like a saint.
No useful purpose it tends to serve.
A saint on the wrong path is equivalent to the hunter striking his target by hiding behind a bush.
A saint must be his own self and he need not try to be so.
As hypocrisy is a worst sin, we as people should disown it, and be noble enough to sincerely avoid wrong doings!
Let our deeds, and not our outward appearances determine who we are!
124. 10/1/16.
Your ' Poetry of Tomorrow– the Japanese Way ', is long in content and short in form.
Really Great, Grand, and Tall!
Creativity is exclusive to man.
With culture and civilization came the development of language and many of its forms, including Poetry.
Many quotes on poetry!
They reveal their glory.
Poetry is an expression of our emotions that come in flows spontaneously.
You have pointed out that poetry and its forms are all part and parcel of our ancient culture and civilization.
It's rightly so as is evident from the number of works of creation in poetic form in Indian Literature as also in other world literature.
Small is always beautiful.
It's short of length, but in terms of effectiveness, it's supreme and power- packed.
Change of time necessitates change of pattern too in poetry.
We have lost patience in every aspect of our life and in the literary field too, we expect small and short patterns.
As you said we've no time to stand and stare, and anticipate literature to deliver their creations as fast and small and short as possible and effectively too to enable the readers to enjoy their beauty in full.
This segment of readers is the target for the Haiku poems, previously known as Hokku in Japan, and they suit well to attract them for its special form, bringing the essence in spite of its being short.
That Haiku does not include topics like romance, sex, and violence unlike Hokku is itself a glory.
A poem in capsule form, that's Haiku, is to the liking of the weary minds.
Divine love unites and so too short verses.
They stand apart and bring storm in form and sense, and the spirit is ever alive.
I agree with you that poetry should be simple enough to make the readers understand the content effortlessly and get the message intended.
That you've explained what is Haiku in the very Haiku form of poetry is special in itself.
That your Haiku is an improved version over the Japanese one for the inclusion of rhymic effect is vouchsafed by none other than the Japanese Haiku Poet.
In his own words, it's worth esteeming very highly!
A fantastic presentation indeed!!!
125. 11/1/16
'Death Anniversary of Lal Bahadur Shastri ', reminds our nation of the necessity of leaders of his caliber to enable it to reach the status of super- power in the world.
Such a simple but able personality he was that everyone got inspired by his participation in our Freedom Struggle that won for us the independence in 1947.
That he resigned from the Railway Ministry of the Govt.of India due to an accident is suggestive of his moral strength that should be a definite quality of worthy leaders ruling our country.
You quoted Shastri's very famous slogan "Jai Jawan Jai Kisan ", to make us aware of the invincibility of Jawans and Farmers to the nation's security and growth respectively.
That you are strictly following his call, namely, "Miss a meal a week " suggests your admiration for Shastri, who was very much known for his simplicity, and who was posthumously awarded the Bharath Ratna.
My thanks to you for posting this timely post to let the present generation appreciate the qualities of Shastri and get inspired to follow in his foot- steps and make the country prosperous!
126. 12/1/16
" National Youth Day " under your Envius Thoughts calls upon the youth to make India, a heaven on earth as desired by Swami Vivekananda, one of the greatest sons of India and a great authority on Spirituality.
It's very apt that his birthday is celebrated as National Youth Day, as he personified the power of youth.
From young Narendra, he became the first disciple of Ramakrishna Paramahamsa who groomed him to be Swami Vivekananda, the spiritual leader.
To him, truth is all- important and he stood for their quest for truth.
Swami's Chicago address was world- famous and where he addressed the audience as 'Brothers and Sisters', which had the magnetic attraction the world over.
India's youth power is enormous, both quantitatively and qualitatively.
The responsibility placed on them is great and yet, their capacity will see through the dream of Swami Vivekananda.
This day let us take a pledge to remain truthful and make the celebration justified by releasing the full potential of youth and make our country shine in all aspects!
127. 13/1/16
Fraud is the cheapest commodity available nowadays and it's quite appropriate that you have chosen to post the Voice of Valluvar on 'Evils of Thought' yesterday.
Anyone who is leading a virtuous and glorious life will not even think of coveting what's in possession of others.
Mere intention of a fraud by itself is a sin to be shunned.
Actually committing it is more than a sin and amounts to a disgraceful act on the part of the doer.
Wealth amassed fraudulently is not going to last forever.
We will simply lose it and remain not ours any longer.
Coveting others' things may bring us temporary pleasure.
But ultimately what remain are only sufferings and woes, which surely is not our goal on earth.
Anyone intent on a simple life will not resort to defrauding others and their life will always be a controlled one.
What else can be greater than this pattern of life?
Let evil thoughts be erased out of our mind, and let us do good to others and make them happy apart from being happy ourselves!
128. 14/1/16.
And today it's
" Let the Night Sleep ", after
" Let Her Sleep ", and
" Let Him Sleep ".
Fantastic your posts are!
Nights are meant for sleep.
Everybody is asleep and knows not what's happening.
With us, the remnants of the day too go to sleep and take rest.
Why then should we disturb the night at all?
Just as we have a break in the night after the day's hard work, the night should also have the break to enjoy its sleep sans the disturbance from the human beings.
A beautiful imagination well presented!
129. 14/1/16.
Your post "Let Him Sleep "of yesterday is a fine read.
Like the girl child, the boy too must enjoy his childhood for the joy and peace associated with the age.
Like
"Work while you work
Play while you play ",
The boy should sleep while he sleeps.
Growing up to a man involves many ups and downs and he must be groomed properly to face the challenges ahead.
The loss of sleep now is lost forever and cannot be regained.
He should not miss the opportunity.
Providing necessary strength and power to strengthen his body and mind will be to his advantage as he can be the part of a new world characteristic of Love, Honesty, Brotherhood, and Justice!
Let him sleep now to ensure performance later!!!
130. 14/1/16
There's nothing but truth in your post:
" Speaking Truth ", voiced by Valluvar.
Whatever we say should never hurt others and that is called Veracity.
If our lies could do good to others, the lies themselves are good. Falsehood is capable of pricking our own conscience.
Speaking truth will enable one to live in the hearts of all.
It's more than austerity practiced by one following a simple way of life.
Truthfulness makes one noble and virtuous and for him a life of truth is the real light, and it's the great praise showered on him.
Anyone who is truthful need not do other virtuous deeds as there's no virtue that's greater than speaking truth.
As speaking truth will elevate us to a glorious position, and our mind and soul are cleansed, let us practice this virtue under all circumstances!
131. 15/1/16.
Your post today:
"I 'm 56 as a Teetotaler Today" is very much inspirational.
There are Spiritual Leaders and Well wishers expecting us to get inspired and change for the better.
A conviction in our mind could help us understand the message behind any discourse delivered by a speaker.
And exactly that had happened in your life, wherein you were inspired by Sri Chandrasekarananda Saraswathi Swamigal to kick the habit of taking tea/ coffee 56 years back.
And I remember well of another instance of your will power that enabled you to follow the call given by Lal Bahadur Shastri to" leave a meal a week" even today!
So many suggestions come our way.
Many a time we are convinced of the efficacy too.
But we are not serious enough to follow what we are told.
We do not care to keep them in mind and ignore them altogether.
Let the Power of Inspiration power us to the level expected and adhere to whatever is found to be worthwhile!
132. 15/1/16.
Thanks for your Pongal Special today.
A day to remember our agriculturists, who are indeed responsible for our sustenance.
Their toil day and night ensures our going to bed with our stomachs full.
Let us love our fellow beings and all living beings and make them happy and peaceful.
Let us enjoy and make others too enjoy.
Wishing all a happy Pongal!
133. 16/1/16.
Your" Thiruvalluvar Day ", special depicted the Saint Poet in the way he deserves.
According to Poet Bharathi, Thiruvalluvar's birth in Chennai bestowed great fame on Tamil Nadu.
His words of wisdom in1300 couplets covered all the subjects under the sun.
His universal message guides the people across the world.
The whole of India can boast of Thirukkural for its eternal truth and its relevance in any period.
Next to the holy Bible and the sacred Quoran, Thirukkural is the most respected and translated in many of the world languages.
Let us remember the effectiveness of wisdom that came from Valluvar and follow the guidelines in our interaction with others for the benefit of the society as a whole!!!
134. 16.1.16
The Voice of Valluvar on
"Control of Anger ", through your post is a great message intended for the masses.
If you are happy with woes, you can very well show your anger towards the strong people. Avoid your anger against the weak.
Anger is capable of driving your joy and smile away.
Why then should you stick to it?
Protect yourself by avoiding wrath because it can kill your kith and kin too along with you.
The suffering you face out of anger is the same as faced by the one who dashed his hands against the plain ground.
Your wrath against others is more dangerous than the torture you may get due to fire.
Uncontrolled anger leads one to death.
On the contrary, if you choose to avoid anger, you get the qualities of a Saint.
The greatest benefit you get out of avoiding anger is that all desires are within your reach.
குடும்ப அமைதியைக் குலைக்கும் கோபம்
நம் கடிவாளத்திற்குக் கட்டுப்படட்டும்!
கோபக்கனலைத் தணித்து
குளிர்ச்சி ஊட்டுவோம்!
135. 17/1/16
Your Sunday Story on Farmers' Day with your write- up and Kaviyogi Sudhdhanandha Bharathi's English Translation of "Farming", by the Saint Poet Tiruvallivar's world renown Thirukkural, is a nice read.
Agriculture is the prime of all vocations and farmers are the backbone of our Economy in general and Agricultural Economy in particular.
Farmers are the lynch pin of people who bow before them for their food.
Farmers do not idle away their time but produce their own food and never ask for it from others.
Even the desire less monks look to the farmers for their sustenance.
The complexity with farming activities is more pronounced with protecting than in irrigating the land.
The anger shown by the land at the idle farmers is comparable to that shown by a wife towards his idle husband.
That is the importance attached to agricultural operations and the busy farmers associated with them.
This day let us wish our farmers and the cattle in their assistance all the very best to make the world going with all prosperity.
And your appeal to the courageous rural youth to join the Defense Forces and serve the Nation, instead of clamoring for bull fight and bull taming with their valor, is laudable and worthy of consideration by the concerned!!!
136. 18/1/16.
A fine read, your
"Martin Luther King Jr. Day ", special, posted today.
It's very appropriate that every year, the third Monday of January is celebrated to mark the life and achievements of Martin Luther, an advocate of civil rights through Non- Violence.
His birthday is observed as "Civil Rights Day ", and "Human Rights Day " in the USA.
Rightly called a true Gandhian in letter and spirit!
He fought against racial discrimination among the people of United States of America and he was for equal rights for all the Americans.
His famous speech was:
"I have a dream ", and proved himself a great orator in History.
The youngest man to receive the Nobel Prize for Peace!
Let our national leaders be the likes of Martin Luther King Jr., and steer the nation through the single- point mission of
"All are equal before the Law ", to total prosperity everywhere!!!
137. 19/1/16.
With mental agony I am going through your post titled,
"A Cancer Patient's Prayer" today.
Healthy life is truly a blessing and the best asset one can own.
We are afflicted with so many illnesses and experience their negative impacts in the course of our life.
Many diseases go unnoticed or not correctly diagnosed many a time.
Cancer is one such medical condition playing foul with our everyday life making the patient himself/herself and the members of the family concerned hard to manage.
The pain the affected undergoes is beyond one's imagination and he or she wants a sudden exit from this earth happily forever, since instant death is preferable to the suffocating pain.
The suffering lady's prayer through your voice has the message, "With me let the cancer die ".
That she doesn't want others to suffer on account of this deadly killer is testimony to the sufferings that go with it.
That she should be the last one to face the cruelty of the disease reveals her sympathetic heart feeling for others.
And I join with you to look for a world, free of the scourge of this cancerous cancer and pray for a healthy society!!!
138. 21/1/16.
Yesterday you have delivered the greatness of the poets and poetry Through the Noble Wings of Poetry, but I am acknowledging it only today.
A poet is so immersed in the subject matter chosen that he's quite oblivious to other aspects of mundane world temporarily, and he's back to senses concerning material life only after he's done with the contemplated subject.
Poets are indeed great for the innumerable messages intended for the whole world.
By their powerful wings of imagination, they spread their message of joy and peace.
From the ancient and medieval, to the modern and anonymous, all the poets deserve our respect for their ability to add flavor to the countless subjects they deal with.
The specialty with their creations are the way they treat the pairs of opposite concepts, like good and bad, success and failure, joy and sorrow, virtues and vices and so on.
Immortal the poets become and what they create transcends caste, creed, and color.
Poets feed our aesthetic senses abundantly that it is but natural for us to revere and respect them!!!
139. 21/1/16.
Why not we take a pledge not to harm others, keeping in mind the voice of Valluvar on "Not Harming Others ", translated and posted by you today?
There are some people who find happiness in inflicting harm on others.
Likewise, there exist the noble people who do not harm others even if it meant a huge wealth for them.
They are too noble to return the harm done by others.
If they harm others, it only attracts sufferings.
So, alternately they make the wrong doer feel ashamed by choosing to do good to them.
We should learn to treat others' woes as our own and solve them as far as possible since we know how difficult it's to face the impact of harm.
A harm inflicted on others may not take time to approach us.
We want to remain harmless.
Is it then reasonable to harm others?
Let wisdom prevail and make us understand the logic behind harming others and desist from doing it!!!
140. 23/1/16.
I enjoyed your post on
"Bikaner Camel Festival ".
Countless are the Special Days.
And festivities too!
One such day you've introduced to me.
That you have had enjoyed the festival in Bikaner, a wonder in the midst of the Tar desert, in the course of your employment reveals your interest in rituals connected with the Camel Festival, like the dance, music, rides, races, parade, and the like.
Such special days are occasions to make us aware of the importance we have necessarily to attach for the God's creations, including the living animals, and treat them with utmost care and attention!!!
VIEWER Mr. OKR Sivagnanam enjoying nature and thinking over ENVIUS                                                                           THOUGHTS of the day.