Journalist Muthu Aiyer with his grandson "learning Computer? or teaching!"
Strange and inscrutable are the ways of TECHNOLOGY! With not much of  'GREAT EXPECTATIONS' I launched my blog 'ENVIUS THOUGHTS' on 28th February 2015. Today it is 449th day of the Blog and carries 486th post.
Technology unites the people known and unknown, young and old, near and far!
Here is a former JOURNALIST who came across ENVIUS THOUGHTS and started expressing his views through Feed back form regularly besides his comments in the Face Book.  While in service he was in Delhi as UNI correspondent and now I believe he is settled in Hyderabad. His name is Muthu Aiyer.
I have great pleasure in sharing with my esteemed viewers in this SUNDAY STORY-A JOURNALIST'S VIEW OF ENVIUS THOUGHTS which I am sure you will find quite interesting and informative. I enjoy the feedback and get inspired.
N V Subbaraman in his chambers when he was in service!!!!!!
21/5/16.
Comment: National Day for Cultural Development.
Culture is an identity of the country, State in which one lives. Now it is not so. These days most so called civilized society in National/State capital is very much influenced by other Country's culture. Culture is revealed through the dress you wear, the way you eat and what you eat, the way you behave. The customs you fall from your forefathers etc. etc. The dresses we wear are mostly based on the weather and climatic conditions prevail in your respective country. If the temperature is below 0 deg.C apparently people wear the dress to fight against the nature. But, if the same dress is followed in countries like India during the winter even if the temperature is at bearable level, they call it setting of new fashion trends! We can even express our patriotism by printing our national flag in our shirts etc. without breaking the law. If a Pakistan flag is hoisted in Kashmir by anybody we call him a traitor but if a man in the above said civilized society is wearing a T-shirt printed with American flag he calls it a fashion. Alas! This is the cultural status today and let us celebrate "National Day for Cultural Development" today with a hope that at least this celebration may bring back our true culture and make us to feel the value of our heritage……Parampara! I am thankful to Mr. N V Subbaraman to bring out such valuable articles to tip of the people to come back to their original form.
Time: May 21, 2016 at 12:07 pm
IP Address: 122.170.224.99
20/5/16
World Meteorology Day!
Once upon a time a Tamil proverb was in vogue: "Maariyum, Mahapperum Mahesan Kaiyil" means rains and child birth are with will of God alone. We have earmarked rainy season from this month to that month for different parts of our country but whether it is raining or not during that period is at the disposal of God Himself. "God created the earth for the people to live in peace"  God has created the earth for every creature on this globe to live in peace. But what man thinks is I have to live in comfort at the cost of others and other things. Deforestation spoiling the peace of wild animals that has resulted the entry of tigers, lions and elephants into the urban/ city areas, air pollution by invention of so much variety of automobiles etc. etc. People want whether to live in peace or not but definitely in comfort! Alas! Meteorology is nothing but our Panchankam. Science versus our conventional system. That's all. This is (from May 4 to May 28, 2016)supposed to be Agni Nakshatram period in Chennai and most of the other parts of our country. There is torrential rain in many places of Tamil Nadu reflecting cloudy weather in Karnataka and Andhra/Telengana while the Sun is burning with 45 to 47 deg. C in U.P. Delhi and other northern parts of India. In this condition we celebrate World Meteorology Day! Let us enjoy!!
19/5/16.
Comment: "OMAR KHAYYAM'S DAY"
"Be happy for this moment. This moment is your life."
What a great philosopher inspired millions of people across the world. Yesterday is dead. Tomorrow is unseen and/or unpredictable. Today is our life. We must live it in peace. That is why the Great Man quotes as above. One cannot and should not forget him in life!
18/5/16.
Comment: "World Museum Day"
Museum is for educating our future generation about our real and old culture. Our ancient people did not have that much knowledge to accumulate their period utensils used during their period and the method of architecture they adopted etc. If they were preserved at one place like a museum we would have come to know their life style in full. But, now from some findings hither and thither by way of excavation etc we come to know. Now, our life style has also changed to a great extent with the growing fashion trend. We must preserve them all in a capsule and bury it at a considerable depth with the mention of our period so that people of future generation could assess the value of our present life style. It is a very nice post and educative also as well simulative too.
17/5/16.
Comment: World Tele-communication and Information Society Day!
————————————
In my childhood I was used as medium for communication! Yes, if any good or bad happens in our home it must be communicated to our relatives residing in other villages miles away. I hire a bicycle and pedal it for miles to reach their respective villages and convey the messages. Now, if any national leader is assassinated the news reaches the thousands of kilometers away countrymen in seconds. What a great achievement of our human society! If I could not see a very interesting movie released in 1950s, now I do not regret for it as before because that movie comes to my drawing room through a TV channel to enthuse me. You think of something and see it on internet through your PC. More than what god has created, now human inventions, I can say, surpasses it. Greetings to all my fellow citizens and international human fraternity on this World Tele-communication and Information Society Day today!
16/5/16.
Comment: PEACE THY SOURCE!
Peace is the frame of mind
Peace dwells in heart
Peace blossoms from the mind
Peace from everyone to start!
Must be engraved on Gold Plate!
Peace in family, Peace in our nation, peace in our village, town, city, Peace in working place, Peace in the World as a whole. Peace is now needed everywhere. Let us make a vigorous and peaceful search for the peace which we lost a long ago. Live in Peace! Help to remain in Peace!!
15/5/16.
Comment: HOMES OF GODS-"NASHVILLE GANESHA TEMPLE"
God is omnipresent. There is a small story in Islamic style. One Fakir was resting at a Masjid stretching his legs towards the sanctum sanctorum and was also enjoying toddy. A maid came and addressed the Fakir: "Is it not sinful that you are lying before the sanctum stretching your legs towards it? Pat came reply from the Fakir: "Oh, Sakhi (maid) tell me the place where god is not present so that I could stretch my legs towards that direction. This has made that maid silent and she went away forthwith. Even the history of earth reveals that once upon a time the Hinduism was dominating this whole of universe. So, it is not wonder that our Hindu deities are establishing their presence all over the world now. Once upon a time people used to go on pilgrimage to the holy places like Sabari hills, Trichy Malaikottai hills,Pazhani hill, Tirupati hills, Kedarnath etc. in search of gods. But now, god is reaching to places at a command of some people!
14/5/16
Comment: INTERNATIONAL DAY OF FAMILIES
Family does not mean that a husband and wife with their children make it. It is a wide circle goes on expanding with the rotation of Time Wheel. I remember to have read in this very same FB once that a family has more than hundred members in it. That is family. If it lives under one roof it is certainly a family. With city life, multi storied buildings with flat system, government allotted quarters it is very difficult to speak about a family in family sense. We celebrate this day today remembering our father and his forefathers living style.
13/5/16.
Comment: RAMANUJACHARYA
He was a great leader and still continues to dwell in the hearts of many. I can say Shaiva Siddhantham came to light only because of Sri Ramanujacharya. There was a fight once upon a time between shaivam and vaishnavam but there was not at all any hatred feeling. Adi Shankara preached Advaidam which became best known among shaivite when it was differed by Ramanujacharya with Visishtadwaitham. There must be debate on our each and every understanding but it should at the same time not become fight against each other was the policy of both Adi Shankara and Sri Ramanujacharya. Worth worshipping Ramanujacharya so long we worship Adi Shankara. Very nice write up by Mr. NVS on Sri Ramanujacharya. Yes he was and he is Acharya (preacher/teacher) forever.
11/5/16.
Comment: NATIONAL TECHNOLOGY DAY
Precisely I would say human, right from the beginning, indulged in technological advancement to make his life more and more comfortable except in a very few cases it is for their essential needs. We categorized this as Stone Age etc. under civilization. Fighting against the nature he shifted from the tree shadow to caves and advanced to civil constructions. He found fire rubbing the rock stones and this has been improvised in many ways. Now it stands at electronic lighters and so on. But one thing what we could observe from this technological improvement is that nowadays it has made a man or a woman completely idle paving way to develop so many diseases in him/her. Memory power reduced. Even for a small calculations the present generation seeking the help of calculator and/or computer etc.
10/5/16.
Comment: INTERNATIONAL MIGRATORY BIRDS DAY
If the birds are migrating from one place to other it is not only for their survival but also give enchantment to the views of other placed people too. But, if a man is migrating from one place to other it could be mostly for the reason of money and in a very few cases it could be for the reason of not getting a suitable position for the talent and ideas he may possess. So many variety of birds in the creation of God, but they do not fight for any caste nor do they have any racism etc!. Because they have brain level lesser than human beings! Why do we grow like this and birds like that is only best known to the God alone!
9/5/16.
Comment: FIRE OF LIFE
So long a person lives for himself/herself the fire fires smoothly and cooking of life goes fantastic. But once a person starts living to impress others, to surpass status of others then the fire burns and makes one into ashes. Living for others to help achieving their needs could cool him.
8/5/16.
World Dance Day.
Comment: This one I have written a year ago in the FB on this day. I have pleasure in reproducing it here now:
The whole world is based on the cosmic power of Lord Shiva in the form of Nataraja. On this World Dance Day I express my hearty best wishes to all the Dance masters, Dance Students, Dance Teachers, Dance Academies and Institutions et al. Besides remembering those dedicate masters Late Vazhuvoor Ramiah Pillai who shaped our Bharatha Natyam in this country to new heights as well Kathak Guru Brij Maharaj. Odessa dance maestro Guru Mohapatra and many more like them. Happy World Dance Day!. I cannot forget those days of my association with Late Guru K.J. Govindarajan, Guru Venkatraman of Natya Sudha, Guru Dakshinamoorthy (all from our capital city of Delhi) as well Sikkil Guru Ramaswamy Pillai. Even today many more are fully involved in the field of Bharathanatyam, Kuchipudi, Odissi, Manipuri etc. among them I remember One living Guru Smt. Marie Elangovan. Although she is hailing from a foreign country, she has not only mastered the Bharathanatyam art of our country, settled in our country and fully dedicated herself to the said art. Even otherwise, the whole family of Keeranoor Guru late Sri K.J Govindarajan is fully dedicated themselves to this Bharathanatyam alone. I wish them all a grand success after success throughout their life. I feel Tamil Nadu government must identify such artists like Mari Elangovan and Mr G. Elangovan, as well flute vidwan G Raghuraman and encourage them all by awarding the State award of Kalaimamani. We must be proud to be Indians being in the land where Nataraja exists in the form of Bharathanatyam (originated from Tamil Nadu)
Mr. NVS with his wide knowledge writes on various subjects, that too on time it must be written. I am a staunch fan of the great writer Mr. N V Subbaraman.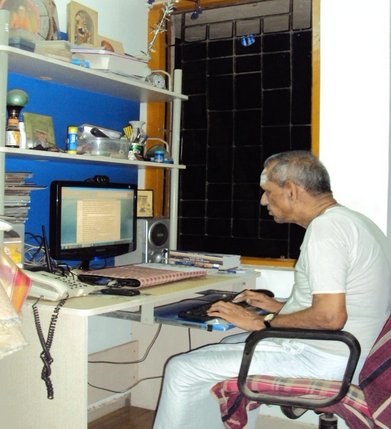 N V Subbaraman today in his Blog work.