Bhagwan Shri Sathya Sai Baba
All powerful Almighty takes birth as a human being on earth
Called avathar to show how a human being can take divine birth
Puttaparthi Baba was one such who was born as a human being
Demonstrated to the world "LOVE ALL-SERVE ALL, HELP EVER-HURT NEVER!
Education and medicine for all at all levels and needs sure
Extended to all irrespective of caste and creed, religion pure
Thousands and thousands were benefited from all over the world
In a tiny village called Puttaparthi in Andhra Pradesh gold!
Twenty Third November avathar day of Bhaba a holy day
Parthi Baba as HE is fondly addressed by HIS devotees-pay
Respects and receive HIS blessings- for education higher and Heart
Surgeries absolutely free all round the year- by noble servants smart!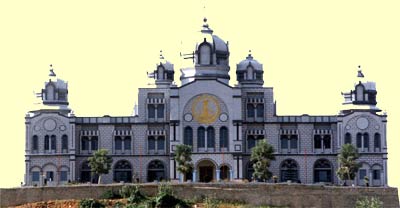 Sathya Sai Institute of Higher Learning, Prashanthi Nilayam  where my second boy received his MFM degree.
Sathya Sai Super Specialties Hospital in Putta parthi.