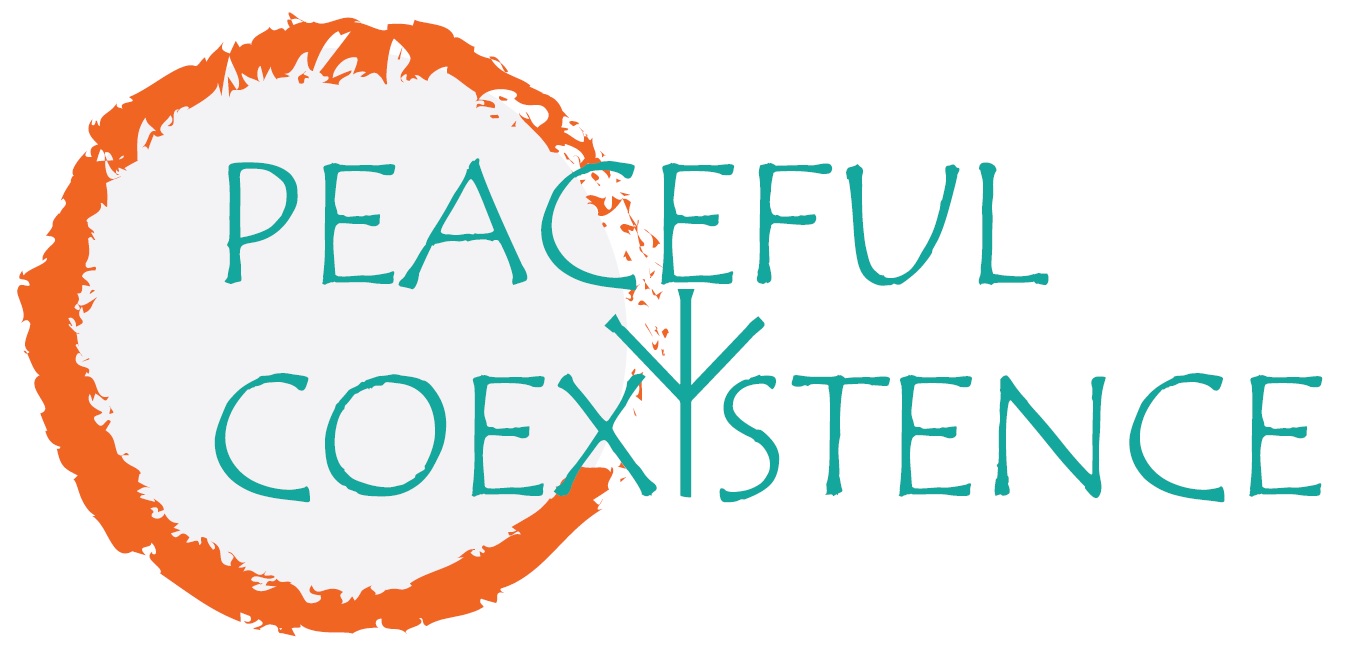 Blessed with human life on this earth, we have to EXIST!
In HIS great creations there are human beings, animal beings, hills and dales, mountains and rocks, seas and rivers, tanks and lakes!
Because of religions, castes and sects a feeling has come in us that peaceful coexistence refers only to the people belonging to the different religions inside or outside their countries living and coexisting peacefully!
The following quotes will stand testimony!
Yes at a time when religions -a great unifying factor- sow the seeds of division, disharmony and distrust!
"Do not be overcome by hate. But conquer hate with love."
"The pathos of the human life teaches one that idolatry of the ego is a sham. Only by living in harmonious accord with the entire world can a person distill happiness that flows from cultivating a state of mindfulness."
"Our actions reflect the distilled wisdom that we possess of the innermost self. Our personal philosophy is an activated way of living. A peaceful person delves the truest definition of the self by maintaining an attentive state of conscious awareness and ceases escaping from reality with mindless diversions. Self-inquiry is the principal method to remove ignorance, increase self-awareness, and abide in a tranquil existence
"See that the most essential thing is life and that killing or oppressing one another will not solve anything."
I firmly believe that the mission of religion in the 21st century must be to contribute concretely to the peaceful coexistence of humankind.
"India is a living museum of different ethnicities and religions peacefully co-existing. This process is going on for centuries. Shia, Sunnis, Sufis, Hindus, Sikhs and others are living together," Rouhani said.
"When the power of love overcomes the love of power, the world will know peace.
Jagath Guru: "Hatred and conflict are often rooted in differences between people of different races and religions. We all need to respect people of different races as well as people of different faiths and religions. We need to unite by recognizing our common desire and need for a harmonious society — a society in which we and our children and families and friends and communities can all live our lives in peace and harmony. Regardless of our race or religion, we all want and need such social harmony."
"Without respect for people of different races or ethnicities or religions, how can we have a peaceful and harmonious society or world? And without a harmonious society, how can there be the necessary economic development and atmosphere conducive to spiritual happiness and self-realization?"
Ramakrishna, a Hindu mystic: "God has made different religions to suit different aspirations, times and countries…one can reach God if one follows any of the paths with wholehearted devotion."
Ancient Japanese saying: "There are many paths up the Mountain, but the view of the moon from the top is the same."
The main purpose of this Sunday story is PEACEFUL COEXISTENCE with the other non-human beings like birds and animals, trees and plants, hills and dales, oceans and lakes!.
It is indeed sickening to see the trees being cut for selfish purposes.Trimming is OK and not cutting. When we think of global warming, we have to ensure the trees are protected at any cost.
Again the birds and animals! We have to coexist peacefully with them whatever the inconveniences to which we are put to.
One of the greatest Tamil poets Mahakavi Bharathiyar would say:
.  சின்னஞ்சிறு குருவி போலே-நீ
            திரிந்து பறந்து வா பாப்பா!
வன்னப் பறவைகளைக் கண்டு -நீ
           மனதில் மகிழ்ச்சி கொள்ளு பாப்பா!
கொத்தித்திரியுமந்தக் கோழி -அதைக் கூட்டி
          விளையாடு பாப்பா.
எத்தித் திருடு மந்தக் காக்காய்-அதற்கு
          இறக்கப் பட வேணும் பாப்பா!
பாலைப் பொழிந்து தரும் பாப்பா!-
        அந்தப் பசு மிக நல்லதடி பாப்பா!
வாலைக் குழைத்துவரும் நாய்தான்-அது
         மனிதர்க்குத் தோழனடி பாப்பா!
வண்டி இழுக்கும் நல்ல குதிரை-
        நெல்லு வயலில் உழுதுவரும் மாடு,
அண்டிப் பிழைக்கும் நம்மை ஆடு,-இவை
           ஆதரிக்க வேணுமடி பாப்பா!
In a poem addressed to the children he lists out a few of the animals and birds like sparrow, hen, crow, cow, dog, horse, goat, buffalo,  and so on and it is our duty to help, nurture, and live in peaceful coexistence with all domestic and non domestic!
Very interesting happenings are there in a big residential colony where there are about 5000 residents in about 1000 flats. Pet dogs and stray dogs are seen and the residents are unhappy with the residents feeding the stray dogs and allowing them inside the colony. They urge their Association to arrange with the Municipal authorities to catch them in their dog vans and see that the colony is rid of them. I am an early riser and take my morning walk at 3.00 am for an hour within the colony roads  and again for an hour in the evenings at 16.00 hours. There are half a dozen dogs just following me- some of them may be barking under the impression a-stranger I am why should I walk in the morning hours!!!!!
I don't find any reason why these stray dogs are to be driven out of the colony!  We have to learn to live in PEACEFUL COEXISTENCE with this community of dogs- my creator and the creator of these dogs being the same ALMIGHTY GOD!
In a place where I was working for three years in Andhra Pradesh, for several years  there was a SNAKE Burrow, in our compound spanning dozens of acres There are about 300  employee- families residing there. . To my knowledge and information, there was no case of snake bite at any time in the past. One day on my return from my official tour, I found the burrow razed to the ground and I felt so bad and the result is the following.
                        SNAKES AND MEN
Snakes and men nature's  creation.
Nothing created sans purpose of action
All to coexist with mutual appreciation
Alas!Many work to mutual destruction!
Survival of the fittest law of nature
Not for humans to make it a structure
To help each other and start nurture
Sure paves the path for glorious future!
Pity it is to see the stronger
Sit in judgement over the weaker
Brutal strength makes the other poorer
Keeps lives in agony or destroy altogether!
Man and serpent wonders of creation
Funny it is both in constant fears
Trying to provoke others extinction
Stronger is the man puts snakes in tears!
Lovely serpent made  molehill its home
Made its young ones sleep in foam
Taught its toddlings prey and roam
Fell the evil eyes fell on this zon!
Fear and panic razed the molehill to the ground
Parent snakes on return from their round
To their horror and sorrow razed home they found
And dead were their offsprings with misery around!
Living in harmony all with nature
PEACEFUL COEXISTENCE high in stature
All living and let living without torture
How to ensure for  glorious future?
So my esteemed viewers this brings us to the end of this Sunday Story. We shall meet tomorrow as usual. Till then GOODBYE!