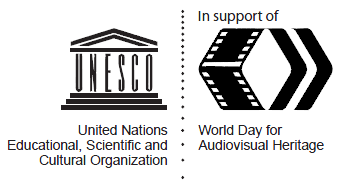 Heritage is beyond all values-to be preserved
For posterity! Great going with culture be noted!
Twenty Seventh October-WORLD DAY FOR AUDIO
VISUAL HERITAGE" with a purpose laudable!
This commemorative day chosen by UNESCO
Thirteen years ago to raise awareness of
Significance and preservation risks recorded
sound and audiovisual documents totally in all!
The main objectives of designating the date of 27 October were listed by UNESCO:
raising public awareness of the need for preservation;
providing opportunities to celebrate specific local, national or international aspects of the heritage;
highlighting the accessibility of archives;
attracting media attention to heritage issues;
raising the cultural status of audiovisual heritage;
highlighting audiovisual heritage in danger, especially in developing countries.
Every year has a theme; this year it is
"Your story is moving!" This theme allows
Plenty of scope for a wide variety of activities
based on stories that are preserved in audiovisual
Archives — people's stories or narratives that enable
Heritage to be passed on to the next generation!
ENVIUS THOUGHTS crosses 1,79,000  views.
I am glad to share with you that with the 122nd  view at 16.30 hrs today viz Saturday  the Twenty seventh (27th) October 2018 , total views of the BLOG  crossed ONE LAKH  AND SEVENTY NINE THOUSAND (1,79,000) from more than 210 countries  around the world on the 1275th day and 1391st post, thanks to your support and encouragement. Kindly continue.