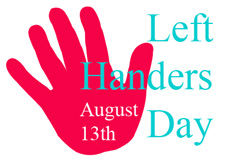 August thirteenth today is INTERNATIONAL LEFT HANDERS DAY
A day unique to felicitate yet another nice creation of God
Just a little away from the normals! Left handers said to be
More intelligent and industrious than the right handers!
Pity at times some look at the young left handers with contempt
It should be our endeavor to praise their unique usage of their left hand
Left or right, their character and conduct must be great and noble
Their attainments and achievements to be appreciable!
Great celebrities in dozens adorn the world of left handers
Amitab Bachchan, Abishekh Bachchan and Kapil Sharma
Obama, Bill Clinton, Laxmi Mittal and Ratan Tata
Gautam Gambhir, Sourav Ganguly and Yuvraj Singh!