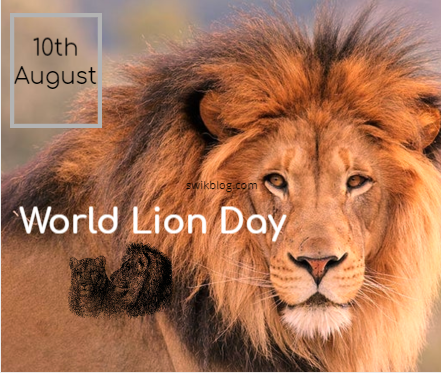 Unfortunate indeed is the lion population is getting reduced  year by year!
Tenth August today is WORLD LION DAY!  aiming  to raise awareness of the
Majestic hunter, the ultimate feline, the king of the jungle, the big fluffy Kitty of the Serengeti… Hmm, better let us leave it at 'king of the jungle'?
When I referred this day to  a ten year old, she asked is it LION DATES!!!!!!!
Celebration of the animal kingdom's most beautiful and fearsome creature
Planned  by Big Cat Rescue, the world's largest  sanctuary dedicated to it!
Today is a day for people to come together from across the world to
Pay tributes rich to the mighty lion in as many ways as possible.
Though a Fun and exciting occasion for all, it is based on a  serious matter:
Lion numbers have seriously declined to the point where the species
Is placed on the endangered list, just like its larger cousin the tiger.
Let us beseech the authorities concerned to take measures all possible
To protect LIONS from extinction and increase its population in the world!
Let us listen to the sound song of the LION and enjoy
One of the greatest creations of the Lord Almighty, the Omnipotent!