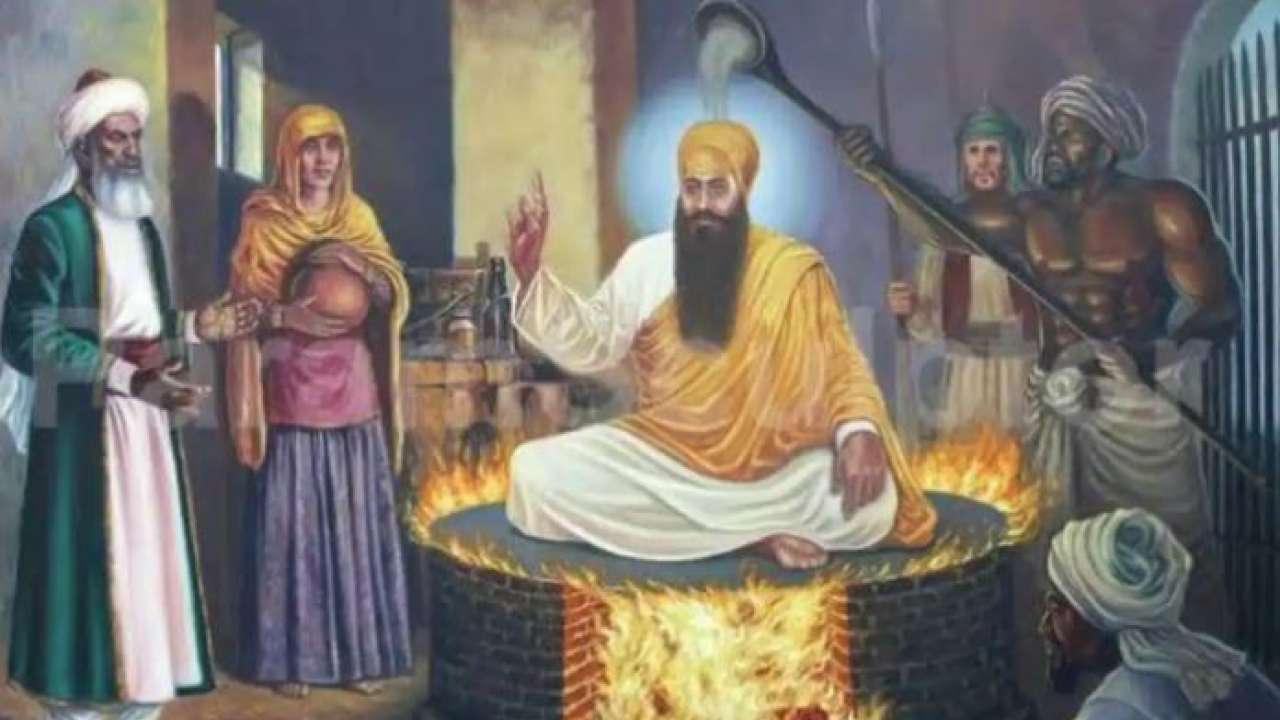 India that is Bharath- our holy Motherland indeed is a blessed nation
Birth place of religions several all promoting unity and harmony
Teaching truth and non violence! Yet unfortunately several misdeeds
Are /were experienced! JUNE SIXTEENTH today is martyrdom of Guru Arjan Dev. –
Guru Arjan Dev is the fifth of the ten Sikh Gurus, the first martyr
Of the Sikh faith. compiled the first official edition of the Sikh scripture
The Adi Granth, which later expanded into the Guru Granth Sahib.
Born in Fifteen Sixty Three in Goindval, Tarn Taran district during
The reign of the Mughal Empire, Guru Arjan Dev was martyred in Lahore in Sixteen not six..
On this day in Sixteen Not Six Guru Arjan died after being tortured for five days
By the government led by Emperor Jahangir.
The Sikhs observe the martyrdom of the Sikh Guru Arjan each year this day.
His martyrdom is remembered as Shaheedi Divas of Guru Arjan.
On this day, people organize events where they read Sri Guru Granth Sahib
And distribute langar. This year due to the outbreak of COVID-19, no big event is organized.
The place where Guru Arjun Dev Ji's body was extinct in the River Ravi,
Gurudwara Dera Sahib (now in Pakistan) has been built.
Shri Guru Arjun Dev Ji is remembered for his humility.
Guru Arjan Dev's son, Hargobind Singh, became the sixth guru of the Sikhs after him.
In Fifteen Eighty Eight, Arjan Dev laid the foundation of the Golden Temple
And also prepared the map of the temple. The doors of the temple on all sides
Signify the acceptance of all four castes and religions.
Guru Arjan Dev expanded the Sikh scripture written by the previous Gurus
And placed a copy of the Adi Granth in the completed Harimandir Sahib temple
On August Sixteenth Sixteen not four.and appointed Baba Buddha as the first Granthi.
He also contributed more than Two thousand hymns himself, which was more than a third
And the largest collection of hymns in the Guru Granth Sahib.
He was also the author of the well known Sukhmani Sahib Bani.
ENVIUS THOUGHTS crosses overall view score of 3,14,000!
With the 86th view at 13.00 hours yesterday – Tuesday the 15th Jun 2021 (15/06/2021), the Blog crossed the fruitful three lac fourteen thousand (3,14,000) over all views on the 2322nd day of the Blog in its 2440th post, by the esteemed viewers of ENVIUS THOUGHTS from more than 210 countries of the globe. The Blogger is extremely grateful and solicits their continued support by regular viewing. Constant endeavor is made to improve the quality of the content. Thanks.