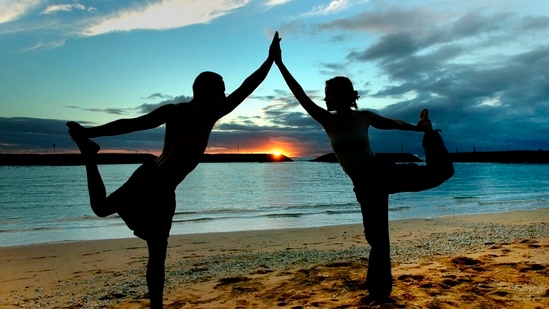 International Yoga Day on June 21: UN says yoga can help with Covid-19 anxiety
2021 International Day of Yoga, is today – Monday Twenty First June.
Carrying the theme "Yoga for well-being", much relevant for our times
In a society still recovering from the impact of the coronavirus disease (Covid-19) pandemic.
International Yoga Day is observed every year on June 21, as decided
By the United Nations, to highlight the importance of the practice —
Defined as "physical, mental, and spiritual" at the same time — people
To lead a healthier lifestyle. The day is marked to raise awareness of
The many benefits of Yoga, as it continues to grow in popularity across the world
And is practiced in its various forms. This year, the International Day of Yoga is
Keeping its focus on well-being beyond the immediate impact on physical health.
Yogis and Yoga –proud contribution of India that is Bharath
For the health and harmony of people around the world-very great!
Unfortunate in India we attach not great faith and belief
At times we hear derisive comments too- a misfortune indeed!
Yoga invaluable gift of India's ancient tradition
Embodying unity of mind and body; thought and action;
Restraint and fulfillment; harmony between man and nature;
Holistic approach to health and well-being. to discover sense of oneness!
My beloved father was my Yoga Master- from age ten he taught us
Mathsyaasana, mayuraasana, dhanuraasana, sarvaangasana
Sirsaasanaa and savaasanaa all to last for minutes forty five
Immediately after morning walk and then bath in cold water!
International Yoga Day is today the Twenty First of June
For the past several years, to raise global awareness about
Benefits of ancient Indian practice. resolution on this
Was introduced by India's Ambassador to United Nations
One hundred and seventy seven joined as co-sponsors,
Highest number ever for any General Assembly resolution.
Adopted under the agenda of 'Global Health and Foreign Policy,'
Recognized Yoga "provides a holistic approach to health and well-being"
And beneficial for the health of the world population.
Yoga our ancient physical, Mental and spiritual practice! ''yoga' to join or to unite,
Union of body and consciousness," "continues to grow in popularity" .
I
**********************************************************************************
BLOG CROSSES THRIING THREE LAC FIFTEEN THOUSAND VIEWS OVER ALL!
With the fifth view at 4 am this morning, the Blog Envius Thoughts inhttps://nvsr.wordpress.com has registered thrilling THREE LAC FIFTEEN THOUSAND (3,15,000) overall views from more than 210 countries of the globe thanks to the support extended by our esteemed viewers regularly for which I am extremely grateful and seek your continued support in the days to come also. Constant efforts are made to improve the quality of the content. Thanks.
**********************************************************************************