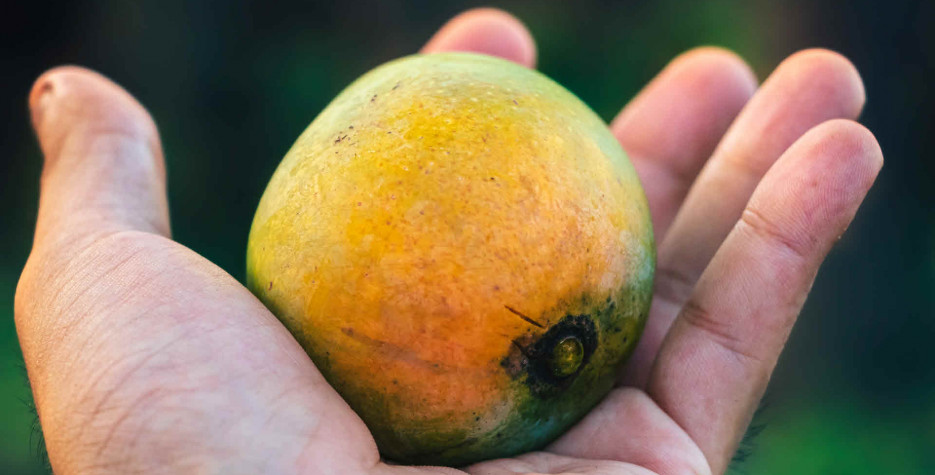 The following three fruits most liked according to a Thamizh -TAMIL – and they are மா, பலா, வாழை- Ma, Pala, Vaazai ! That is MANGO- JACK,- BANANA!
Of the three MANGO occupies NUMBER ONE POSITION! Now is the peak season for MANGO and we find a lot of MANGO fruits in the market, road side shops, in carts and vans!
Rightly today JULY 22nd is WORLD MANGO DAY!
Every year July 22 is dedicated to National Mango Day. The best way to observe National Mango Day is by eating mangoes, a lot of them. The mangoes are juicy, sweet fruits with a seed at the center and they are one of the many species of tropical trees. Mangoes are grown widely in frost-free tropical climates, which makes India more suitable for cultivation. Mangoes have their native to South Asia from where the mangoes are distributed worldwide. Mango is the national fruit of India, Pakistan, and the Philippines. In India, mangoes are commonly harvested during the months March-May. The popular paisley motif is said to be inspired by the shape of the mango. Nearly half of the world's population enjoys mangoes that are harvested in India. There are around 100 varieties of mangoes grown in India. Ripe and unripe mangoes consumed directly as well as cooked as dishes. Skin, seed, the sap of mangoes are also used to make Ayurvedic medicines. Hence celebrate National Mango Day with any mango-based dish. There is a special pickle prepared with very tender mango called " MAVADU " used to be at home almost through out the year¡¡
"There's no guilt in eating fruits, vegetables, nuts and grains." – Jane Velez-MitchellHistory of National Mango Day
The origin and the history of National Mango Day are unknown. Mango itself has a rich history behind it. The mangoes are cultivated for over 5000 years. Mangoes were first developed in South Asia, India, before they traveled to South East Asia. East Africa started to cultivate mangoes in the 10th century AD. The scientific word Mangifera was derived from the Sanskrit word manjiri meaning flowers growing in small clusters. Mangoes have taken place in Indian history as well as in the poetry of great Indian legends.
Come on let us RUSH to TASTE MANGO-RIPED FRUIT!
************************************************************************************************************
ENVIUS THOUGHTS CROSSES 3, 20,000 OVERALL VIEWS!
With the Fifty first view at 09.30 hours yesterday, the Blog Envius Thoughts inhttps://nvsr.wordpress.com has registered tireless THREE LAC TWENTY THOUSAND (3, 20,000) overall views on Wednesday the 21st July 2021- 2358th day of the Blog and 2483rd post– from more than 210 countries of the globe thanks to the support extended by our esteemed viewers regularly for which I am extremely grateful and seek your continued support in the days to come also. Constant efforts are made to improve the quality of the content. Thanks.
*************************************************************************************************************