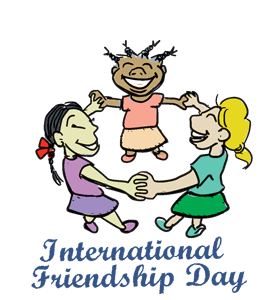 A famous saying goes: "Tell Me Who Is Your Friend. I Shall Tell You Who You Are!"
Yes one's life depends very much on the friendship one has!-joyous or sorrowful!
July Thirtieth today is International Friendship Day to observe!
Yes a day to think of friendship-TRUST, CARE,SHARING,RESPONSIBILITY!

International Day of Friendship designated by the United Nations General Assembly.
On this day, let us step back and get thankful for these relationships worldwide,
Since they promote and encourage peace, happiness, and unity.
The U.N. encourages governments, community groups, and other organizations
To coordinate activities and events that celebrate the friendships
That we keep close to us. Many events focus on reconciliation,
Bridging understanding and consensus, and finding comfort
In those friendships that feel like home.. Let us keep friendship GREAT!
ENVIUS THOUGHTS CROSSES 3, 22,000 OVERALL VIEWS!
On the tremendous Thursday- in a thrilling 647 views on a single day-probably the highest in a day in the history of the Blog, with the Six Hundred and Forty Seventh view at 20.00 hours yesterday Thursday , the Blog Envius Thoughts inhttps://nvsr.wordpress.com has registered tireless THREE LAC TWENTY TWO THOUSAND (3, 22,000) overall views on the 29th July 2021- 2366th day of the Blog and 2493rd post– from more than 210 countries of the globe thanks to the support extended by our esteemed viewers regularly for which I am extremely grateful and seek your continued support in the days to come also. Constant efforts are made to improve the quality of the content. Thanks.