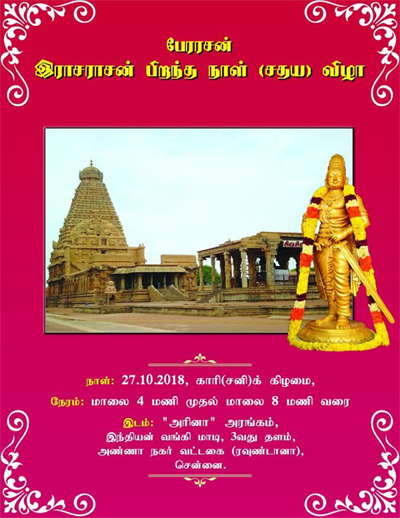 Among the Thamizh kings, Rajaraja Chozha was one of the TOPS! Look at the above place BIG TEMPLE in Thanjavur – my home town- and under the 216 feet tall tower, I used to sit for about a couple of hours every day for more than a decade in Nineteen Sixties! A period still remains VERY, VERY GREEN in my mind!
There is a road in my area in Chennai- PADI THEVAR NAGAR AREA- where there is a road named after RAJA RAJA CHOZHA, which I daily cross in the evenings on my way to PADI THIRUVALLEESWARA TEMPLE!
Thousand Thirty Four years ago this day was born a great KING
Who ruled the Chola Nadu of those days; Cauvery Delta is a
Region of Tamil Nadu encompassing the lower reaches of
Kaveri River and its delta, cultural homeland of Chola dynasty.
Was the Political base of the Cholas who ruled most of
South India and parts of Sri Lanka and South-East Asia!
Thanjavur was capital of the greatest of the dynasty
Raja Raja Chola. KING OF KINGS-magnificent was his rule!
During ninth and thirteenth centuries. Uraiyur first capital
Medieval Cholas shifted to Thanjavur and later Gangaikonda
Cholapuram with Rajendra Chola as King. Raja Raja Chola
Built the famous Tanjore BIG TEMPLE for Bragadeeswara!
Nice Sadhayam celebrations at Thanjavur