GANDHI + SHASTRI + KAMARAJ DAY =October 2nd!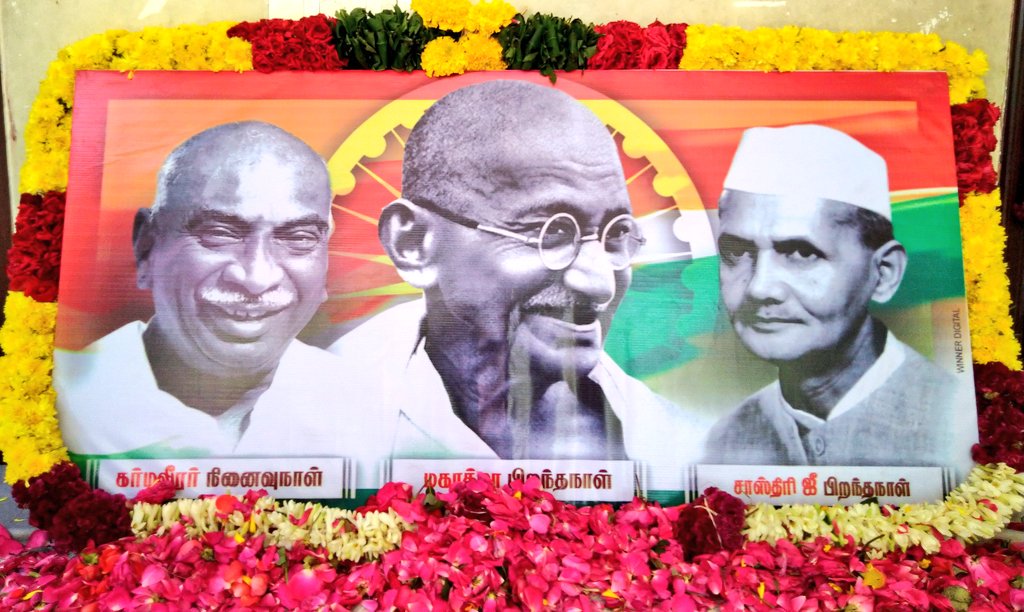 As I normally used to say, besides my parents in their heavenly abode, I have three more mentors from HEAVEN who hold my hands and accompany me wherever and whenever I go out and bring me back home safely. They are great Poet Saint Thiruvalluvar, Mahakavi Barathiyar greatest national patriotic Poet from Tamilnadu and Mahatma Gandhi father of our holy Motherland-India that is Bharat.
This day is a sacred day OCTOBER SECOND, the Day Gandhiji and LalBahadur Shastri  were born and Kamarajar entered his HEAVENLY ABODE.
For Gandhiji's birth day, here s a tribute paid to him by Barathiyar which I reproduce in Tamil along with transliteration and translation in English.
ORIGINAL IN TAMIL
வாழ்க நீ எம்மான்!
வாழ்க நீ எம்மான் , இந்த வையத்து நாட்டி லெல்லாம்
தாழ்வுற்று வறுமை மிஞ்சி விடுதலை தவறிக் கெட்டுப்
பாழ்பட்டு நின்ற தாமோர் பாரத தேசந் தன்னை
வாழ்விக்க வந்த மஹாத்மா! நீ வாழ்க; வாழ்க!
அடிமை வாழ்வ கன்றின் நாட்டார் விடுதலை யார்ந்து செல்வம்
குடிமையில் உயர்வு, கல்வி ஞானமும் கூடியோங்கிப்
புவிமிசைத் தலைமை யெய்தும் படிக்கொரு சூழ்ச்சி செய்தாய்!
முடிவிலாக் கீர்த்தி பெற்றாய் , புவிக்குளே முதன்மை யுற்றாய்!
TRANSLITERATION
VAZHGA NEE EMMAAN GANDHI!
Vaazhga nee emmaan, indha vaiyaththu naattilellaam
Thaazhvutru varumai minji vidudhalai thavarik kettup
Paazhpattu nindradhaamoar baaradha dhaesan thannai
Vaazhvikka vandha Gandhi mahaathmaa! Nee vaazhga, vaazhga!
Adimai vaazhvaganrin naattaar viduthalai yaarndhu selvam
Kudimaiyi luyarvu, kalvi njaanamum koodi yoangip
Padimisaith thalaimai yeydhum padikkoru soozhchchi seydhaay!
Mudivilaak keerthi petraay; puvikkuLae mudhanmai yutraay!
Translation in English.
Long may you live, Gandhi Mahatma,
You who have brought new life to Bharat,
The land which of all lands on earth
Lay most degraded, poverty-stricken,
Ruined, forsaken, of freedom bereft.
Endless glory, yea, a crown
Universal you have gained
Devising a simple plan whereby
Our people can shake off slavery.
Breathe free, grow rich and learned and wise,
And show to all the world the way
Of true, enlightened citizenship.
This day is the birth  anniversary of a great Gandhian, a simple but effective Prime Minister he was Lalbahadhur Shastri.
He was the second Prime Minister of Independent India and he was greatly impressed by Mahatma Gandhi. He gave the slogan of "Jai Jawan Jai Kisan" which means "Hail the soldier, Hail the farmer"- most important segment of the Indian society.
Lal Bahadur Shastri dedicated himself for more than 30 years to the country and he came to be known as a man of great integrity and competence. He was a man of great inner strength, humble and tolerant. He understood people's language and was a man of vision towards the country's progress.
Here is a tribute to one of the greatest citizens from Tamilnadu-a very efficient Chief Minister of Tamilnadu whose death anniversary
 is observed today. Tribute is in Tamil and its English version.
கர்மயோகி ஆனவர்
காமராஜர் என்பவர் கர்மயோகி ஆனவர்
கதராடை அணிந்தவர் கடமையில் தவறாதவர்
தமிழகத்தில் பிறந்தவர் தியாகம் செய்து உயர்ந்தவர்
அகில இந்திய அளவிலே தலைவராக இருந்தவர்
தமிழகத்தின் முதல்வராய் தலை நிமிர்ந்து நின்றவர்
தமிழகத்தின் பெருமையைத் தரணி அறியச் செய்தவர்.
எளிமையான வாழ்வதை என்றும் ஏற்று வாழ்ந்தவர்
ஏழை எளிய மக்களின் துயர்தனைத் துடைத்தவர்.
காமராஜர் என்பவர் கல்விக் கண்ணைத் திறந்தவர்
மதிய உணவுத் திட்டத்தை மக்களுக்குத் தந்தவர்.
தன் நலம் துறந்தவர் தனியராக வாழ்ந்தவர்
அண்ணல் காந்தி அடிகளின் அறவழியில் சென்றவர்.
பாசமிக்க தலைவராய் பலகாலம் வாழ்ந்தவர்
பாரதத்தின் பெருமையை பார் புகழச் செய்தவர்!
Translation:
BECAME A KARMA YOGI
Kamaraj became a karmayogi
Wearing kadhar, never failed in duties!
Born in Tamilnadu became tall through his sacrifices
At the All India level a great leader he was!
As Chief Minister of Tamilnadu he stood with his head high
Glory of Tamilnadu he spread in the whole world!
Simple life he lived all throughout his days
Removed the woes of the poor and have nots!
Kamaraj opened the eyes for education for all
Provided mid-noon meals for students all!
Selfless he was a bachelor throughout
Followed the footsteps of Mahatma Gandhi!
As beloved leader he lived for long
Spread the glory of India all through the globe!
So a GREAT THREE IN ONE day- auspicious day for our nation!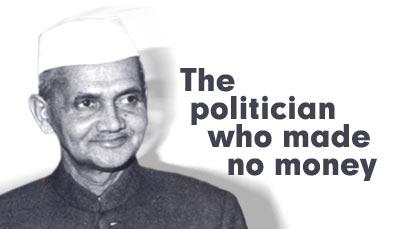 *******************************************************************
ENVIUS THOUGHTS crosses  significant  2,72,000 views.
I am glad to share with you that with the 167th  view at 09.30 hrs. today,  VIZ Friday   the 02nd October, Gandhi Jayanthi holy day, October 2020 , ( 02/10/2020) , total views of the BLOG  crossed  the significant  figure   TWO LAC AND SEVENTY TWO THOUSAND (2, 72, 000) from more than 219 countries around the world on the 2076th day and 2156th post, thanks to your support and encouragement. Kindly continue.
*****************************************************************