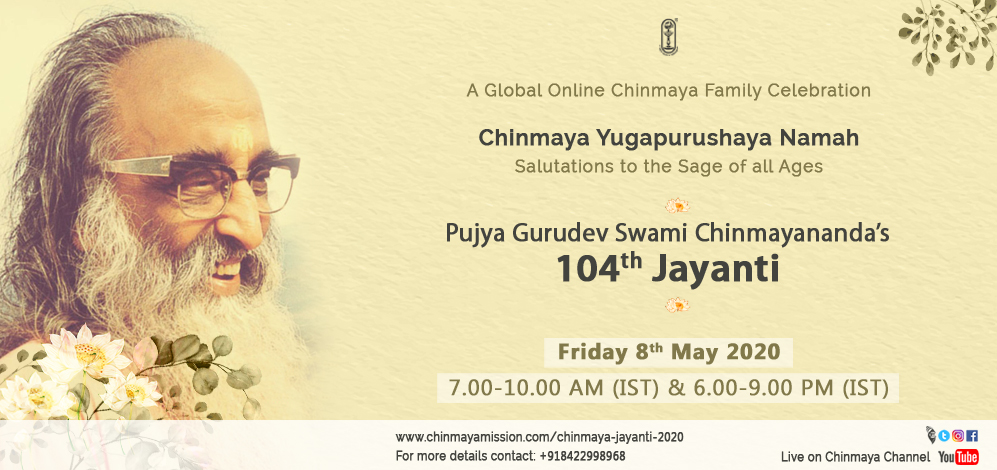 Bliss was it in that dawn to be alive but to be young was very heaven
To be the Secretary of Chinmaya Mission Thanjavur was indeed a bliss
At  young age of twenty two-it was all HIS blessings still green memories!
Attended Geeta Gnana Yagnas-great spiritual experience and that is bliss!
Thanjavur Mission Branch at my home in North Main Street has seen
Weekly Study classes,  library and mission members meets!
Geetha Gnana Yagyas in Big temple premises for almost a decade!
Monthly Sathsangs, quarterly Sadhana camps annual yagyas !
Bissful period in my life! Still I ruminate at age to enter eighty in a days few!
More than Geeta- "MY six thirty means six thirty neither six twenty nine
Nor Six thirty one! My eight means neither seven fifty nine nor eight not one!"
Such a punctualist to the core not to come across any longer
My refrain in my training classes used to be a subject of discussion on this
With a quiz "Can you tell me a Barrister turned spiritual head?"
As a clue poorvashrama name started with 'B' sanyashrana name started with 'C"!
Eighth May is today a holy day! Guru purnima day!Swamiji's jayanthi day!
Chinmayananda Saraswati born as  Balakrishna Menon born on Eighth May
Ninteen Sixteen, entered God's feet on Third August Nineteen Ninety Three
A Barrister at Law turned spiritual leader and a teacher who inspired the
Formation of Chinmaya Mission, a worldwide nonprofit organisation,
And spread the knowledge of Advaita Vedanta, non-dual system of thought
In the Upanishads, which epitomize the philosophical teachings of Vedas.
Swami taught Bhagavad Gita, the Upanishads, and other ancient Scriptures
For four decades and more, led a global Hindu spiritual  Cultural renaissance
And popularized religion's esoteric scriptural texts, teaching in English
All across India and abroad His greatness indeed!
Inspired  formation of Chinmaya Mission program  by his disciples
And led by him, a spiritual, educational, and charitable  organization
In more than three hundred centers in India and internationally. authored
Ninety five works  commentaries on the major Upanishads and  Gita.
Visiting professor of Indian philosophy at  American and Asian universities-
Conducted university lecture tours in many  countries. India's greatest son!
Visited Sandhipani Sadhanalaya- College of Hinduism at Powai, Mumbai!