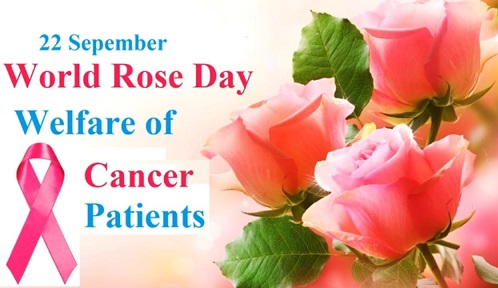 For those who believe there are three distinct Lord Almighty
Creator, protector and destroyer! Brahma, Vishnu, Shiva
In Hinduism  and naturally who believe! Cancer
Indeed is a killer disease.-my better half a victim years six ago!
World Rose Day is today September twenty second-as done
Every year to support cancer patients and make them aware
So that they can face the disease with strong willpower and spirit.
The awareness programs on this Rose day also make people
Aware of the importance of being cautious about cancer.
This in fact was the prayer of that cancer patient:
My Lord, the Almighty, creator of the Universe
What pleasure you find in making me suffer adverse
With the deadly, killer disease named CANCER-the monster
Death instant is less cruel than stifling sufferings-booster!
Chemos and radiations my Lord! Unbearable to the last
Expenses apart, sufferings mental and physical vast
Pain here and there all over-unable to bear my Lord!
Am I such a sinner to deserve this at Thy hands my God?
Thee know well I am a person of clean habits
Never irregular in anything even in bits
How and why I fell a victim Thee alone know
Spare every one from this torture, kindness please show!
Have some pity and relieve me of my woes for long
Relieve the world from this scourge of cancer, the killer strong
Let me suffer and let me be the last patient to suffer
"Let there be no more cancer patient" is my prayer!
With me let the cancer die-leave the world quite free
Let the young and old, men and women, rich and the poor
Get not the killer cancer- cause unknown, why and how-sure
None knows all over the universe-make the people free-pure!