Chandrashekhara Bharati III (1892–1954)
North or South, East or West , Centre no discrimination for Bharathamatha
All parts of holy Bharat my Motherland India has gifted great Saints
And Seers all over to guide the people towards nobility and divinity
In all religions – a great country, religious people with sincerity!
Chandrashekara Bharati Three was Narasimha Sastri in HIS poorvaashrama
Was born in Eighteen Ninety Two and attained Jeevan muktha in Nineteen Fifty Four
Was indeed the Jagadguru – teacher of the world- of the Sringeri Sharada Peetham
D Nineteen Twelve to Nineteen fifty Four!was quite a good length of time!
Most significant spiritual figures he was in Hinduism in the last century.
On September Tenty Sixth Nineteen Fifty Four day of Mahalaya Amavasya
Mahaswami took a bath in the Tunga River in Sringeri, sat in padmasana
And attained Videha Mukti on the banks of the river.body was discovered
Floating in the river. was interred by Sri Abhinava Vidyatirtha, his successor
To the Sharada Peetham. body buried beside his Guru's samadhi.
A samadhi was constructed for him, Shiva Linga was consecrated over it.
Worshipped today called Sri Chandrashekhara Bharati Linga.
Chandrashekhara Bharati Swaminah composed a few poems and famous commentary.
Gururaja Sukti Malika with thirty six compositions in four hundred pages.
Printed in Sanskrit and Tamil Bhashya on Vivekachoodamani of SriAdisankara.
We pray our homage to Acharaya Jagathguru and seek HIS blessings.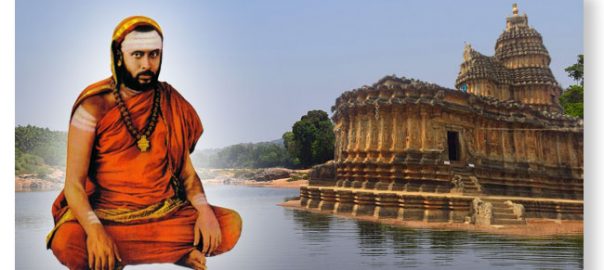 –